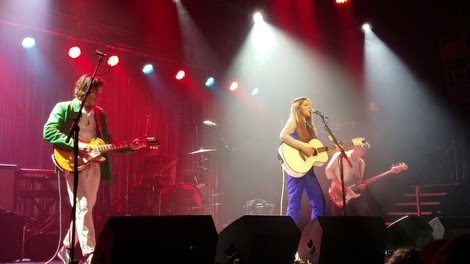 When the WMCN staff was asked during our first meeting of the semester about the last good show we had been to, I was one of the only people who couldn't think of an answer. It was only afterwards that I realized it had been over two and a half years since I had been to a concert. This made me feel 1) like a bad music fan and 2) that I hadn't really taken advantage of going to school in a place with a vibrant music scene like the Twin Cities. So when I noticed this past Thursday that one of my favorite new artists was posting about performing in Minneapolis the following day, I decided to change that.
I was introduced to Jade Bird, an English singer-songwriter who turned twenty-two last week, when her first breakout single "Cathedral" was recommended to me on Spotify in late 2017. Despite loving the melodramatic folksy track about jilting someone at the altar, it wasn't until I was trying to gather music to play on my first WMCN show a little over a year ago that I decided to delve deeper and check out her 2017 EP Something American (another track from the EP, "Grinnin' in Your Face", would end up being the fourth song played on my very first show.)
Bird is currently touring North America for her self-titled debut album that was released in April, which the Twin Cities' The Current called "a remarkable first release and just the beginning for England's newest talent." According to Bird's social media, Minneapolis was one of her favorite stops on her last tour through the US, and this sentiment seemed to be reciprocated by the audience in the warm and enthusiastic welcome she received in the beginning of her set this past Friday at First Avenue. What followed was a fun show where Bird's bubbly charm cut through and shined as much as her voice.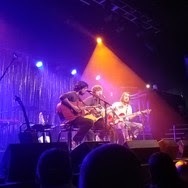 Opening for Bird was English band, Flyte, who opted for a more intimate acoustic set. While all the songs played during their thirty minute set were pleasant and solid overall, what really stood out were the captivating harmonies between the three members that reeled me in from their first song "White Roses" to others like "I Still Believe In You" and "Mistress America", a song that they wrote specifically for this tour that I regret not recording a snippet of.
Bird started out her set with a spirited performance of "Ruins", the opening track from her debut, and then continued with others from that album, a couple from Something American, and even a new song, "Anniversary", sprinkled in while periodically stopping to recall stories behind certain songs. While I was expecting to enjoy the performances of Bird's original material with her band (Linus Fenton on bass and Luke Prosser on guitar), the two covers in the set were also highlights. The first, amusingly introduced as a "cover of a cover" by Bird, was a performance of Gillian Welch's version of Radiohead's "Black Star" as a duet between her and Prosser sharing one microphone– making for a very intimate and emotionally raw performance. The second, which I immediately freaked out over within the first few seconds, was a full rock out performance of Blondie's "Call Me" perfectly fitted to Bird's voice.
​​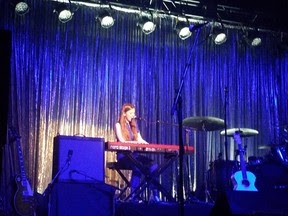 Throughout the entire show, I was patiently waiting for Bird to go to the piano to perform "If I Die", the album closer and a personal favorite of mine. The first time she approached the piano, I got super excited only to be minorly disappointed when she then performed "17". Don't get me wrong, I like that song, and the performance was even better when she decided to bring the members of Flyte back on stage to lend their harmonies to it, which they did beautifully despite looking a tad awkward standing in front of the mic without their guitars and bass in hand. When it came to the end of the set and Bird said that she would be closing out the show with "Going Gone" and "Love Has All Been Done Before", I started to fear genuine disappointment (I mean, how could she not perform one of the obvious standout tracks from the album?) After those two songs and taking a bow with her band, she returned to the stage by herself, settled at the piano, and performed what she considers her favorite song of hers. And with that, my hopes were answered with a stunning closing performance of the romantic and soaring ballad "If I Die."
With the last notes of that song came the end to a great show and a solid first experience at First Ave. After a long unintended break from live music, I felt like an excited little kid soaking in the concert from my little spot off to the side near the stage. If this is any indication of future concert experiences in the Twin Cities for me, I am excited to enjoy music in this way again.
If you're interested in hearing more about these artists, check out Flyte and Jade Bird's YouTube channels!