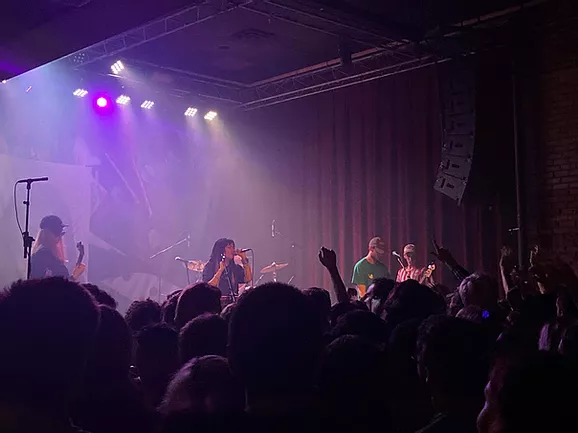 I'll be honest, folks. I didn't know much about Kero Kero Bonito prior to this show. Had I not gone, I probably would have never even dared venture into Kero Kero Bonito territory. The only song I knew was "Flamingo", and the meme-like nature of that tune had ruined any chance of me taking the band seriously. Until this show. 
The show started with an opening act by Negative Gemini. Their sound incorporated droning synths and guitar playing and definitely succeeded in building a mysterious, spacey atmosphere in the venue. That's about as much as we got from their performance. Due to some overzealous use of the onstage smoke machine, the entire band was rendered invisible behind a ginormous vape cloud emitting from the side of the stage. This, along with my inability to see a damn thing at shows anyway on account of my height, made me feel like I was ready to call it a day and sit this review out. Was it even worth sitting around for Kero Kero Bonito? Before I could make up my mind, I was being pushed through a suddenly very cramped Fine Line crowd, fighting to stay near my fellow WMCN staffers, barely squeezing myself into a spot in the middle of the pack of concert-goers. When the band began playing, the crowd had begun to push forward so far that I struggled to keep my feet on the ground, the wall of fans shoving me in and out of a mosh pit. If anybody had told me that I would be caught in a mob of moshing 20-year-olds at a Kero Kero Bonito show that morning, I never would have believed it. The energy in the room was entirely unexpected and absolutely infectious.
KKB played songs off of their newest album, Time 'n' Place, which introduced more indie rock drumming and heavy guitar, and brought an element of grittiness to their otherwise bubbly sound. In a live setting, they incorporated elements of hard rock and even metal into their cutesy Harajuku electronic-dance pop songs, deviating from their studio sound and making for a much more engaging and exciting performance. It got the people not only dancing but jumping, moshing, crowd surfing…pretty sure there were two separate walls of death during the show. Lead singer Sarah Midori Perry showed versatility in her vocal performance, singing in her adorable British accented-bell-like voice, and surprising us all at one point by belting out a terrifying death metal scream. Overall, Kero Kero Bonito is not to be underestimated. What made this performance stand out the most was their ability to take the new direction that they chose for their most recent album and seamlessly incorporate it into their already beloved back catalog. And they killed it. I would definitely recommend seeing them whenever they're in town again.