Hello!
And welcome back to Tarot Tuesday.
Last week I was really getting into inner child healing. This week is about betrayal. Someone or something isn't right. 7 of Voices is calling this in. Libra season is calling in balance.
This week I am using my Muse Tarot Deck. This is one of my favorite decks. Instead of swords, we have voices, cups are emotions, wands are inspiration, and pentacles are materials. I love this concept. It encourages us to understand the arcana more creatively.
Take what you need! Be honest and aligned. That's how you avoid the copycats and fakes… too many rel1g1ous b0ts, not enough rel1g1ous th0ts…It's time to see what's really going on here. Libra season wants us to address interpersonal conflict. SET INTENTIONS WITH PEACE.
The High Priestess is coming in to tell us that somethings off and we intuitively feel it. Turn to the divine feminine within yourself. What is she saying? Listen to sacred knowledge and wisdom…Listen to your peers…Listen to your heart
6 of Voices is telling us that this is a transition period in your life. You are moving on from some difficult situation. Give yourself some grace. You are realigning. Help is coming from unexpected places…
2 of Emotions! RELATIONSHIPS! Keeping this New Moon in Libra in mind… we might want to be building on the relationships we already have and also make space for new friends! Find people who share the same love as you. Find people with mutual interests. You can decipher the real from the fakes using your inner priestess too…
3 of Inspiration. You are taking the steps toward your goals, and your dreams are on the horizon. You are waiting for things to click into place. Breathe into any frustration and realize that you can just pause sometimes.
10 of Emotions. You seek to be connected with the people around you. Spiritual awakening, pure joy and happiness for everyone! This starts with meaningful connections of love and understanding. The 10 of Emotions is on its way when you decide what you want to give your love to!
Ace of Emotions. The Ace offers you new relationships, new opportunities, new ways of connecting through love. This is the era of new feelings + emotional intelligence which will help you unblock your creativity. Read your heart waves.
Ace of Voices. These new feelings and relationships are also bringing in new thoughts and ideas. This is a paradigm shift, a new way of thinking. You are reimagining your goals and ideas.
Page of Emotions… Well, we have a lot of emotions and voices circulating today. The Page invites us to seek joy, seek creativity, seek imagination. Find new possibilities, new opportunities to rejoice! Use your feelings to create new ideas. This is magic.
LIVING A MAGICAL LIFE IS A CHOICE!
Art is the only serious thing in the world. And the artist is the only person who is never serious. -Oscar Wilde.
Here is the spread.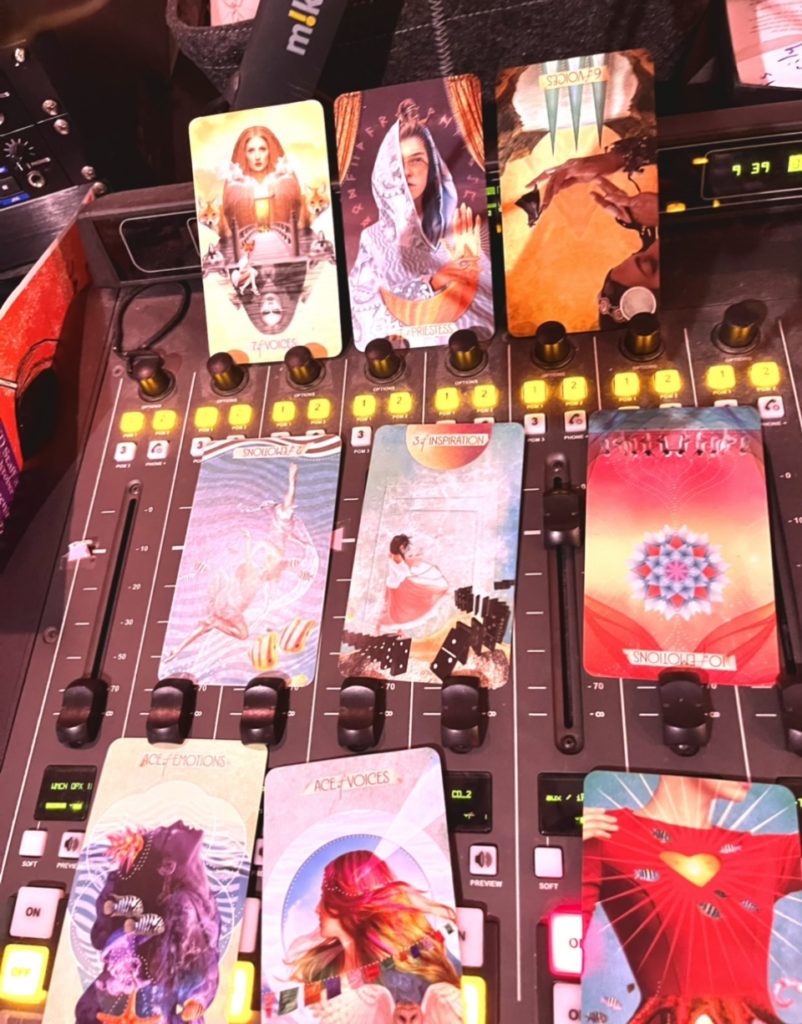 Sunday Night, I hosted a little bonfire at my house. Some homies came and we shared intentions, manifestations, and things we are looking to let go of… We worked on a collaborative painting together too. GOOD VIBES! Shoutout to everyone who came.
It's time to make new friends and find people that share your interests and intentions. Or build on the relationships you already have! How do relationships bring your balance and love in your life?
Relationships will create the expansion and creativity you are looking for right now.
PEACE!
-Rel1g1ous Th0t