Hello Teenage Dirtbags…
Welcome back to another Tarot Tuesday!
We're getting even deeper this week. Last week we were introduced the Queen of Cups. A compassionate, nurturing, loving energy the world needs right now. She is in flow. And this is highly because she loves herself.
We got pretty well versed in the Queen of Cups
But this week we are focusing on the 6 of Cups…revisiting past memories, digging deep into your childhood, and reclaiming the joy and innocence you once had a kid.
This card, this week's reading wants us to simply get in touch with our inner child.
Inner child healing. What do I mean by this? I'm going to be referring to it throughout the reading, so I am going to attempt to define myself.
Inner child healing is the internal, spiritual work you do for YOURSELF to heal the childhood trauma you endured when you were younger. We all carry different trauma. Whether you acknowledge it or not, you have innate triggers that have everything to do with how you were reacted as behaved as a child. None of it is your fault. You are a product of your environment.
The cards are going to be highlighting important wisdom. This was a short description of inner child healing but there is so much more you can learn about inner child healing practices.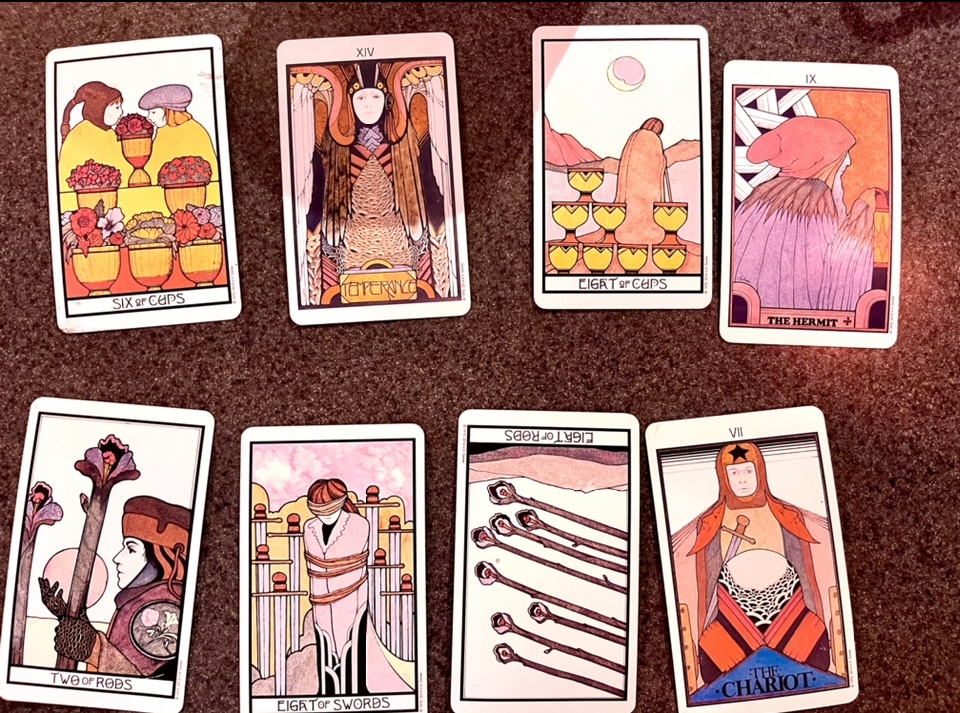 6 of Cups is an invitation to get in touch with your inner child and experience the fun, freedom and innocence that comes with being a young child again.
In other words, you are being given permission to do the things you once did as a child! Color! Go on a bike ride! Dress up! Play with Legos! PLAY!!!
Healing the inner child is a beautiful way to reconnect with your authentic self and intuition.
Now, Temperance is telling is that this is a story of balance and moderation. An 'adult' knows how to balance the inner child within them. This shows maturity. Being able to
Temperance is a practice. We all till struggle with patience as adults
Think back on how impatient you were as a child and how it compares to now. Similar, different, the same? Wherever you land on that spectrum, remember to bring it back in to practice of temperance. What makes you feel the peaceful and calm? Do more of that
Do you remember those times when you were a child where you wanted to but withdraw, retreat? Did you have a temper tantrum? Were you a crier? Did you bottle up your emotions? The 8 of cups is a card of withdrawal, abandonment, and frustration. Doing the work of inner child healing is going to lead us back to those feelings where we want to withdraw and escape. Keeping temperance in mind when things go wrong is important when you feel like you want to escape. How do you escape now when things don't go your way? How did you escape as a child?
The Hermit follows this card, reminding us of the maturity it takes to retreat and spend time alone. It is okay to withdraw. In fact, it is probably what you need most. This is when you can be guided by your own wisdom and introspection.
What kinds of things did you do alone as a child? Do more of that. This is your inner child healing assignment.
2 of wands is all about growth. That is what childhood constantly was. Growing, and even more growing. But just because you are an adult, doesn't mean you stop growing. You have made a lot of progress and your world is only expanding.
8 of swords giving growing PAINS. The part of our adolescence that is so painful. If you see this card, it's someone who's blindfolded trapped with swords all around them. The negative thoughts that trap us and make us feel stuck have a lot to do with our unhealed childhoods.
8 of wands reversed… Our only reverse pull of the night and this is the eight of wands.
A child has so much energy. But reversed is suggesting restlessness and frustration. You've maybe been burnt out a little lately. It's time for interna; change! And that change is the inner child healing you've been called to do. Don't be resistant. Slow down and reassess the next move to make. It is indeed Mercury Retrograde, so expect your plans to be doubly delayed! The delay is a part of the challenge! Are you practicing temperance enough?
Chariot!
Keep moving ahead! Slow down and do feed your inner child. They need love and attention! The Chariot is an invitation to draw upon your willpower and hone in on what's essential to you. You can push past any obstacle that gets in your way. Be courageous. Be bold. Don't fear being your inner child!
Tarot is very imaginative. In fact, I could say it's a part of my inner child healing.
It also requires introspection. Sitting on ideas for a while… That's why I LOVE the Hermit this week. I hope this week's reading gave y'all something to chew on.
I love to teach Tarot and read for people so please let me know if you'd like to be a part of an upcoming Tarot Tuesday.
This week I was joined by my friends Zoe, Maddie and Elise. Zoe helped me with the whole reading and some music music, bless her heart. Love these three so much! We also had a couple unnamed guests who came in and got to draw cards for the collective reading with us. Also did some individual readings and they got to learn more about tarot.
Super stoked to be getting things going at WMCN. I can't wait to listen to other people's shows and become more involved with radio community. Thanks to everyone that keeps up with Tarot Tuesday, couldn't do this without you all.
Til next week!
-REL1G1OUS TH0T
More Posts for Show:
Tarot Tuesday with Compassion in Action