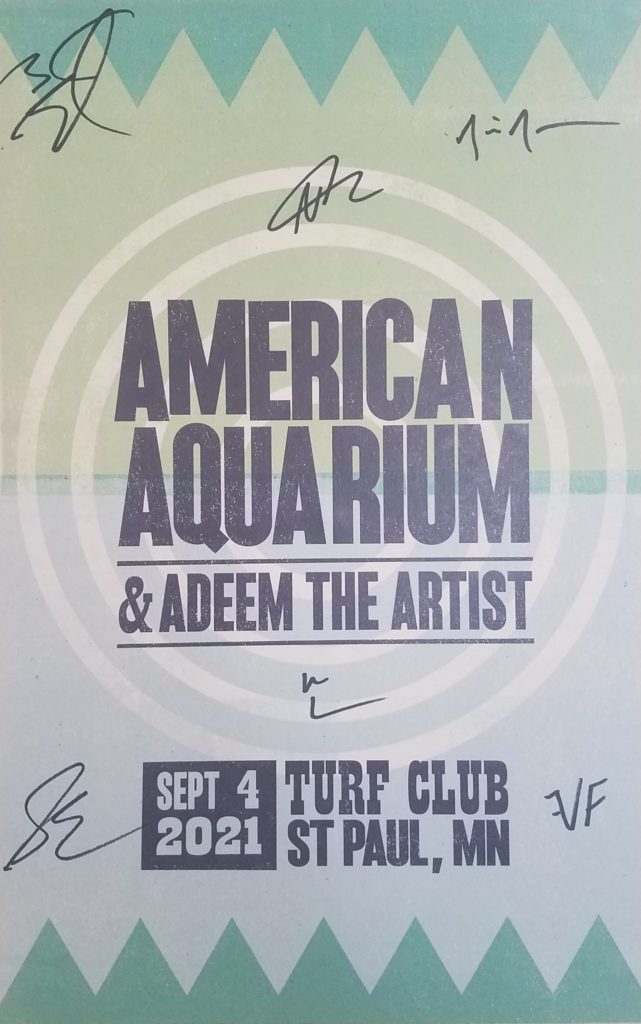 My relationship with live concerts has been somewhat of a slow burn. I didn't go to a lot of them growing up because very few of my favorite acts would ever think of going to the third largest city in Missouri (I get it.) Also, as an anxious introvert, voluntarily throwing myself into a loud and chaotic crowd usually takes extra convincing and mental preparation. That's probably why it took me until my sophomore year to finally start going to shows in the Twin Cities. I only got to go to a few before touring came to a halt as the rest of the world shut down for the next year and a half, but now we're back!!!
My first concert since the start of the pandemic was also my first time at the Turf Club. The venue's been around since the 1940s, and the wall that I sat up against was filled from top to bottom with framed posters from old shows and photos of what the venue looked like over the years. The floor in front of me started to fill up a little bit by the time that night's opener, Adeem the Artist, walked on stage.
Many of the American Aquarium fans in the room probably hadn't heard of Adeem Maria, the seventh-generation North Carolinian who now resides in East Tennessee, before that night, but many were bound to walk out a fan. I had only gotten around to listening to their most recent album Cast Iron Pansexual two days before the show, and it's already probably one of my favorite albums of the year. The album itself is a witty and poignant exploration of identity "in relationship with the archetypal ruins of the Southeast United States," as stated on the artist's website.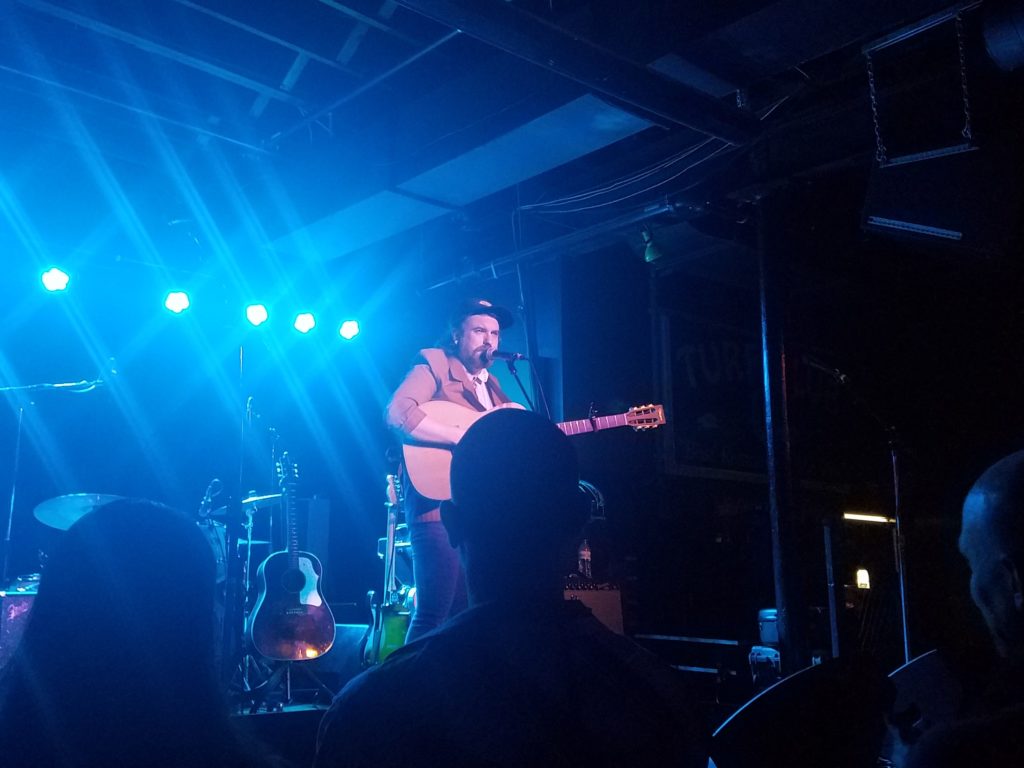 Adeem started their set with the opening track from that album called "I Never Came Out" with an unassuming and humorous honesty that just immediately pulled you in as an audience member. The room got to know Adeem more as they performed other songs from Cast Iron Pansexual before transitioning into one of the most entertaining renditions of Garth Brook's "The Thunder Rolls" that I have ever heard (Hot Country Knight's parody "Then It Rained" being another obvious contender), laying thick on the song's ridiculous yet classic melodrama with audible thunder noises and spoken asides.
Another highlight from the set was "I Wish You Would've Been A Cowboy", the obvious standout from an album filled with a lot of great songs. If the Garth Brooks cover didn't already make it clear, Adeem the Artist is someone who was influenced and grew up on 90s/early 2000s country radio, and it comes out in this song in the form of frustration and disappointment towards an artist that was very prominent in that era; and you're just going to have to listen to it to figure out who it is because my jaw dropped under my mask as I listened to it for the first time on a bus ride home, and I'm not about to deprive some people of a similar experience. The opening set concluded with American Aquarium (minus frontman BJ Barham) joining Adeem for a full-band rendition of John Prine's "Lake Marie." The last thing that I can say about the night's opener is that you should stream Cast Iron Pansexual right now, plain and simple.
The floor of the Turf Club filled in any sorts of gaps that may have been there before just in time for American Aquarium. I probably wasn't as acquainted with the North Carolina alt-country band's discography as the rest of the crowd, but Lamentations was one of my favorite albums of last year, and I had become a fan with their previous album Things Change in 2018. I may not have known the words to every song, but it was great to watch those in the audience that did: the excitement felt in shouting out the hook "I'm just a casualty of rock and roll" in the first song "Casualties" from their breakout 2012 album Burn. Flicker. Die. and the fists pumped up in the air during "The World Is On Fire" … man, I've missed that.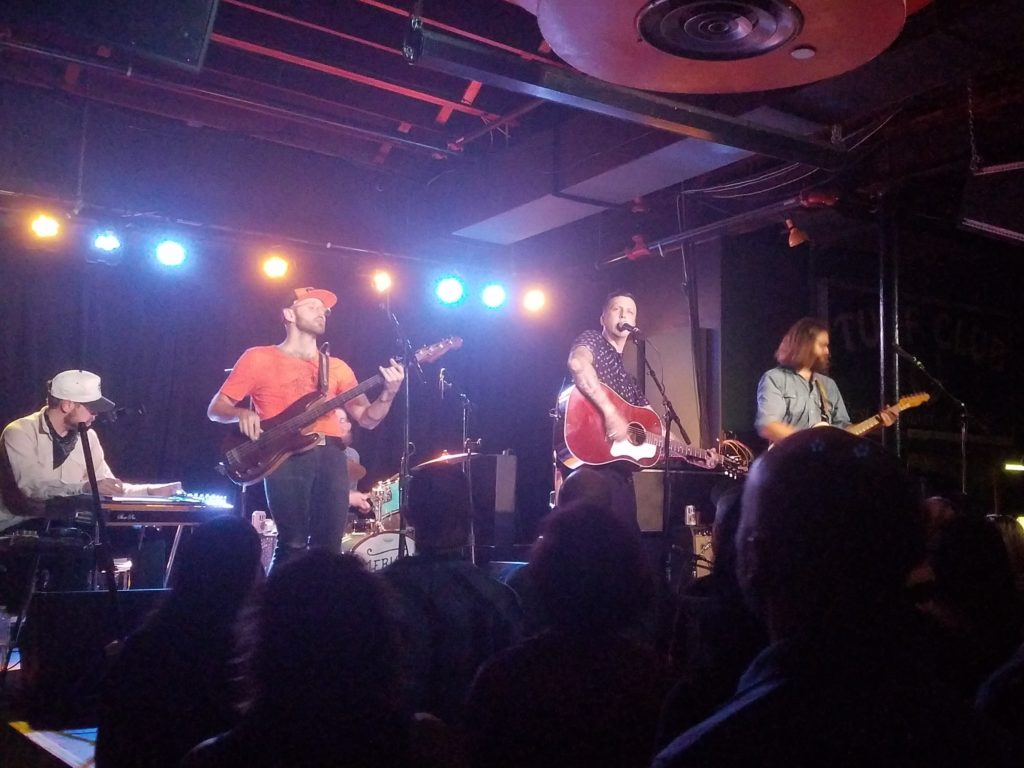 Most of American Aquarium's set seamlessly transitioned from one song to the next, but the few times that BJ Barham would speak to the crowd included entertaining anecdotes about the number of local Jucy Lucy burgers he had had earlier that day (mental note to go to Boomin' Barbecue at some point: check), past audience interactions, and the satisfaction felt at making people cry while performing "Unfortunate Kind." Throughout the set, I made note of unfamiliar songs that I wanted to check out later like "Hurricane" from their 2010 album Small Town Hymns while being reacquainted with personal favorites like "A Better South." The show concluded with one of the songs that the band recorded on their recent 90s country covers album Slappers, Bangers & Certified Twangers, Vol. 1: the late Joe Diffie's "John Deere Green."
The thing that left the biggest impression on me from the set was the band's musicianship, and I'm not just talking about individual skill (though Neil Jones' steel guitar playing was certainly a highlight as someone who's a sucker for a good steel guitar line.) It's the joy that radiates while they just jam out with each other that then feeds into the audience and then back to the band in a continuous feedback loop. It's something that demands to be felt when an artist and audience come together in the same room to enjoy making and listening to the music that they love. It's a feeling that's been tucked away for over a year, and it's surreal to finally be able to get it back (in a safe manner, of course.)
More Posts for Show:
The Making of a Country Fan