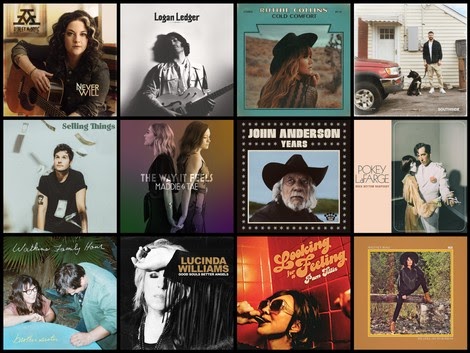 Last month, I wrote a list of fifteen short album reviews for February and March releases that I would have loved to have talked about on my show had we been on campus, so I thought that I would make a similar list for April album releases (that way, I would have then covered most of the new releases through the end of the semester.) This list took a lot longer to make as, like perhaps some of you, my motivation heavily waned and what was left of it was saved for getting through the last stretch of the online "Zoom" semester, but it is still a list that I loved writing that covers a bunch of albums that are worth checking out (and perhaps some… not so much.) While many albums have been pushed back with touring (most artists' main source of income and way of promoting new music) being postponed indefinitely, there are still a lot of new albums that are still being released. Since there are limited ways to support artists and musicians right now, I think it is important to support artists you like by streaming their new music if they are putting out any (of course, you can also buy their new music and merchandise if you are willing and able.)
Anyway, here are brief reviews of twelve country, folk, and Americana albums that came out during the month of April, and they are listed by my personal ranking of them. Here is a link to a Spotify playlist with all of my favorite tracks listed at the bottom of each review. Feel free to skim whichever reviews that you wish or to just check out the Spotify playlist (which is also embedded at the bottom after the last review) and go from there. Enjoy, and I hope that you can find something in here that you like and can enjoy even in this uncertain time!
1. Pokey LaFarge — Rock Bottom Rhapsody (April 10) 4.5/5
On his ninth album, Pokey LaFarge uses his signature vintage sound that mixes swing, jazz, rockabilly, and Americana for a very fun record that is distinctive from his past releases as it chronicles his journey through, what we listeners assume is, addiction and other personal downfalls after moving to Los Angeles from St. Louis through the structure of a show. The album is book-ended with opening and closing interludes as well as an additional "reprise" interlude towards the end of the first half of the record; to create an even more immersive experience, the closing "finale" track begins with a rapturous applause and then follows the narrator as he leaves the show venue and emerges out with the rest of the world (the prior track "Lost In The Crowd" even anticipates the end by describing scenes of people in a crowd.) It is a very organized record with various highs and lows to be heard within it for an exciting listening experience. The first three songs after the introduction ("End Of My Rope", "Fuck Me Up", and "Bluebird") find LaFarge approaching "rock bottom", and then we hear the hopeful romantic tune of "Lucky Sometimes" that is a gentle turn in LaFarge's style that sounds really nice and unexpected from the artist. From that point, we follow LaFarge as he continues to crawl out of his personal "rock bottom" and acknowledge how close he could be to a return downward fall to his vices. However, that fall does not happen as the "show" he plays seems to play a vital role in saving him by the time the listener reaches the end of the record. Although this is an album that delves into someone's journey of self-destruction, it is a joy of an album to get lost in as it also ends on a hopeful yet realistic note. On top of that, the musicianship on this album is on point as the various players tackle an assortment of eras and styles that all sound great with LaFarge's tone that together create a sound that can come off as old-fashioned yet have an energy that somehow makes it feel new at the same time.
Favorite Tracks: "Fuck Me Up", "Bluebird", "Lucky Sometimes", "Lost In The Crowd"
2. John Anderson — Years (April 10) 4.5/5
The late career album from an eighties and nineties country hit-maker looks back with a voice that emotionally hits in all of the right places. John Anderson's first album in five years came out less than a month after the heartbreaking deaths of Kenny Rogers, Joe Diffie, and John Prine that rocked the country music community to the core, so the late career album of a legend like Anderson was probably received in a more bittersweet way than was intended, but it was still a release that was appreciated all the same. There's just something about Anderson's voice that makes you feel something, and you definitely get that in the title track where he is accepting the passage of time no matter how painful it may be. While there is the possibility that this could be Anderson's last album (he suffered through a period of significant hearing loss while recording this album), there are still songs where he affirms himself in the present and doesn't just look back like the strong opener "I'm Still Hanging On" and "Wild And Free". A surprising standout comes from a duet with Blake Shelton called "Tuesday I'll Be Gone" (to be fair to Shelton, he has taken John Anderson on the road with him the past few years and, in the process, introduced him to younger audiences), which is a pleasant song about facing an uncertain future and the open road. The album closes with "You're Nearly Nothing", which is written simply enough but the chorus couplet ("you're nearly nothing when nobody loves you / but you're really something when somebody cares for you") still comes out in a meaningful way for a great closing track. This is a late career country album that is able to stand next to other great late career albums like Tanya Tucker's The Way I'm Livin', Loretta Lynn's Van Lear Rose, and Johnny Cash's American Recordings and its subsequent records.
Favorite Tracks: "Years", "Tuesday I'll Be Gone" (feat. Blake Shelton). "Wild And Free", "You're Nearly Nothing"
3. Watkins Family Hour — Brother Sister (April 10) 4.5/5
The collaborative project between musical siblings Sara and Sean Watkins results in a series of down-to-earth acoustic jams that evokes a familial spirit that is comforting and refreshing to listen to. The Watkins siblings are perhaps the most well known as two-thirds of the highly successful bluegrass/acoustic trio Nickel Creek, who, along with mandolin virtuoso Chris Thile, released six albums from 1993 to 2014. Outside of the trio, each of the members have released various other projects on their own and as part of other groups with Thile releasing music with the Punch Brothers and even Yo-Yo Ma, Sara Watkins releasing several solo albums and one as part of another trio called I'm With Her, and Sean Watkins also releasing numerous solo projects as well as collaborating with Switchfoot front-man Jon Foreman in the Fiction Family. The Watkins Family Hour started in 2002 as an informal variety show performed monthly at the LA nightclub Largo by the two siblings and their friends, and in 2015, the first Watkins Family Hour album was released with only covers and included several other artists like Fiona Apple. Brother Sister changes things up by including seven originals alongside three covers and the only notable features are the voices of David Garza, Gaby Moreno and John C. Reilly on the closer "Keep It Clean" (yes, the actor John C. Reilly who apparently also makes music— who knew?) Even though this album is a little more low-key compared to Nickel Creek's more melodramatic sounds, many of the tracks like "Just Another Reason" and "Fake Badge, Real Gun" are just reminiscent enough of the trio's discography to make me miss Nickel Creek and wish for a follow-up to 2014's A Dotted Line. As with any of Nickel Creek's albums, the superb musical talents of the Watkins siblings are on full display throughout the entire album– especially on the instrumental moments of "Snow Tunnel" and "Miles of Desert Sand". The simple authenticity of the siblings' intricate musical interplay is absolutely beautiful to listen to as they explore themes of home, origin, and family.
Favorite Tracks: "Just Another Reason", "Fake Badge, Real Gun", "The Cure", "Lafayette"
4. Ashley McBryde — Never Will (April 3) 4/5
On her sophomore album, McBryde further cements her rising star in country music. In 2018, the Arkansas native received mass critical and commercial praise for her debut album Girl Going Nowhere (the title track even appeared on former President Obama's Year-End Playlist that year.) Since then, she has earned three Grammy nominations and won CMA New Artist of the Year at last year's ceremony, and this sophomore album was considered one of the most anticipated country albums to come out in 2020. Never Will finds McBryde digging more into heartland rock that's destined to be played in arenas (when that's possible again at least… sigh), but the album does not sacrifice quality lyrics and depth for the sake of that sound. The album focuses on a central theme of staying true to one's self and never forgetting where you came from, which is most obviously heard on tracks like "Hang In There Girl" and "Never Will" and is also important to McBryde's underdog persona as an artist that goes back to 2018's "Girl Goin' Nowhere", a song about all the people in her life that told her that she would never make it as an artist. Beyond those themes, the album also tackles loss and grief ("Shut Up Sheila" and "Stone" were written after the death of McBryde's brother in 2018) as well as heartbreak and infidelity (in the case of the latter, "Martha Divine" spins the country murder ballad trope on its head by revolving it around the narrator wanting to kill her father's mistress in what is one of the most cleverly written songs on the album.) The only "bad" track on the album would probably be the closer "Styrofoam" only because it just sounds out of place with the rest of the album; it is an interesting song for sure and will sound great live (heck, I even enjoyed its ear-worm of a chorus and quirky lyrics when I heard an acoustic version of it on a live-stream), but its placement on the album can best be described as odd. In the end, however, this will probably be one of the best mainstream country albums of 2020 and one that can appeal to both those who love and despise the majority of what comes out of mainstream country music.
Favorite Tracks: "Martha Divine", "Voodoo Doll", "First Thing I Reach For", "One Night Standards"
5. Lucinda Williams — Good Souls Better Angels (April 25) 4/5
The latest album from the alt-country legend finds Williams defying genre by delving equally into rock, blues, punk, and country over the course of the 12-song project. This album finds Williams tackling both politics and her own personal demons in a defiant tone emphasized by her gruffly vocals. Her criticisms of the current administration are not-so-subtly addressed on "Man Without A Soul", and on "Bad News Blues", she further muses on the current state of society. At sixty-seven years old, Williams still exudes her outlaw spirit on the defiant opener "You Can't Rule Me" and on "Wakin' Up", which is one of the tracks that evokes the most punk influence, a sound that makes the album very interesting as a whole. Williams' rebellious attitude can be heard in other ways in the songs where she battles her personal demons. She resists giving into depression on "Long Black Train", pushes her demons away on "Pray the Devil Back to Hell", and then tries to find hope amid hardship on "When the Way Gets Dark". Most of the album has a loud, hard rock sound with prominent electric guitar being present throughout, but this allows the quieter moments like "Shadows & Doubts" and "When the Way Gets Dark" to stand out with their stripped back production (even the subtle fiddle cadence in "Pray the Devil Back to Hell" enhances the tension in the song before the electric guitar takes over towards the end.) This strong album shows that Williams is still a force to be reckoned with and will continue to be with her distinctive voice and outlaw musicality.
Favorite Tracks: "You Can't Rule Me", "When the Way Gets Dark", "Wakin' Up", "Pray the Devil Back to Hell"
6. Ruthie Collins — Cold Comfort (April 3) 4/5
Collins' mature sophomore album is filled with pure emotion, self-examining lyrics, and exquisite production as she navigates the end of a relationship with someone who struggles with addiction. In an interview, Collins explained that most of these songs were written late in the night not too long after the moments that inspired them (as opposed to a random afternoon with a group of songwriters somewhere on Music Row), and you can tell with the heartbreaking and honest lyricism in each of these tracks. The standout opener "Joshua Tree" finds Collins comparing her relationship with the tragic love story between Gram Parsons and Emmylou Harris (parts of the music video for the song are filmed in the room where Parsons spent his last moments at the Joshua Tree Inn in southern California), and she sings about a relationship that could never be in other tracks like "Untold." In "You Can't Remember", Collins sings about the struggles that come with loving someone with addiction issues, and in "Cheater" and "Bad Woman", she examines her own thoughts and potential actions post-relationship; there's a lot of that is handled on this album, and Collins does it all with strong, emotive gravitas. Beyond the songwriting and Collins' unique tone, Wes Harlee's production creates an authentic yet theatrical atmosphere that fits beautifully with the album's heavy subject matter (the project's theatricality almost reminds me of early Taylor Swift but, naturally, much more mature.)
Favorite Tracks: "Joshua Tree", "Cold Comfort", "Bad Woman", "Wish You Were Here"
7. Maddie & Tae — The Way It Feels (April 10) 3.5/5
In their long-awaited sophomore album, Maddie & Tae once again show off their promising talent and provide an example for what pop country could (and arguably, should) sound like even if the album suffered from poor promotion on their label's end. When the duo first emerged in mainstream country with their breakout hit "Girl In A Country Song", Maddie & Tae quickly became one of the biggest rising acts in the genre. Unfortunately, this momentum was halted by under-performing follow-up singles and the collapse of their label, Dot Records (a part of the larger independent label, Big Machine Records), leaving them without a label home until they signed with Mercury Nashville (a part of Universal Music Group) in 2018. Since then, they have released two EPs, which represent two-thirds of the content on this album (only five of the fifteen songs on The Way It Feels are "new".) Of the new songs, you have the lyrical standout "Water In His Wine Glass" and the catchy hooks of "I Don't Need To Know" and "Drunk Or Lonely"; at the same time, you also have "My Man" and "Write A Book", which are two songs about how great their partners are with the former having a more memorable and fun groove to it. You get a variety of songs about the progression of a relationship with songs like "Trying On Rings" as well as heartbreak with songs like the slow-rising hit "Die From A Broken Heart", but you get them multiple times. Had Maddie & Tae been able to release the concept album that they had wanted to in the first place (one that chronicles the journey of a relationship), we could have gotten a much more cohesive album with less filler (but they would have meant that their label was willing to have faith in their talent to put out a full album instead of two EPs beforehand, but country labels as a whole do not have a great track record of giving the female acts on their roster proper consistent backing.) The album still has several wonderful songs on it with refreshing organic production and instrumentation, but it is just unfortunate that the duo's label wouldn't let them release the full album in a way that could have been more impactful and likely truer to what they had wanted creatively in the first place.
Favorite Tracks: "Die From A Broken Heart", "Tourist In This Town", "Water In His Wine Glass"
8. Brian Dunne — Selling Things (April 10) 3.5/5
Dunne's third album is equally subtle and passionate in a sound that creates a pleasant and down-to-earth atmosphere. With pounding drums, electric guitar, and additional harmonies that create a fuller sound, one could picture several of these songs at the end of a movie or part of a general soundtrack, but there is more to be uncovered in this album once you move past its musicality and focus on its lyrical content. From the existential tones in the midst of social and political chaos on "Nothing Matters Anymore" and "Getting Wrecked On Election Day" to Dunne grappling with his own mental health on "Chasing Down A Ghost", none of these songs are afraid to get too personal. At the same time, even though this album could have been rather bleak, there are numerous points all over the album that hint at hope through both Dunne's choices as a songwriter and the production choices by Dunne's longtime friend, Andrew Sarlo, who has recently produced for acts like Big Thief and Bon Iver. With Bruce Springsteen and Bob Dylan as some of Dunne's notable influences, there is a great deal of socially conscious introspection on this album, but it is the down-to-earth sensibilities found in each of the songs that ground them in living in the moment that create a distinctive sound for Dunne that is completely refreshing and honest.
Favorite Tracks: "Chasing Down A Ghost", "Getting Wrecked On Election Day", "Harlem River Drive"
9. Whitney Rose — We Still Go To Rodeos (April 25) 3/5
Rose, a Canadian artist who has been based in Austin since 2016, embraces a rock-style production to blend with her neo-traditional country influences on her new album with the help of producer Paul Kolderie, who has worked with bands like the Pixies and Radiohead. While this approach can be fun to listen to, the production can get a little loud in comparison to Rose's gentle voice, which would have benefited from being more at the forefront in some of these tracks; "I'd Rather Be Alone" is the main exception to this issue because the loud guitars and drums don't get in the way of Rose's soaring vocals that are also grounded in some banjo during the chorus. Nevertheless, the songwriting on this album is superb and wholly "country" in its themes of heartbreak and misfortune. "Just Circumstance" is a great character study, and "Believe Me, Angela" puts a nice twist on a "Jolene" type of cheating song where the narrator chooses to get her revenge on her unfaithful partner rather than the woman that he is cheating on her with. However, the trouble with this album is that it can be hard to get the most out of the lyrics when they are drowned out by overwhelming drums and guitar on songs like "Through the Cracks" and "In A Rut". As a whole, this is a fun album with a lot of wonderful songwriting even if it is sometimes overshadowed by the production's heavier rock direction.
Favorite Tracks: "Just Circumstance", "I'd Rather Be Alone", "Believe Me, Angela"
10. Logan Ledger — Logan Ledger (April 3) 3/5
For his long awaited debut album, Ledger creates a lonely and moody atmosphere that works well with his low baritone and classic country sensibilities. Ledger teamed up with veteran producer and musician, T Bone Burnett for this record, and they succeeded in maintaining a consistent tone and sound, but sometimes, this can lead to the songs blending together and losing their individual appeal. Orville Peck is another current artist that borders on the same issue; both of these artists find their comfort zones while crooning within their lower registers, but staying in this realm can become repetitive after its initial intrigue subsides (furthermore, you can even hear the two artists gravitate towards similar styles when opting for more uptempo songs in Ledger's "I Don't Dream Anymore" and Peck's "Winds of Change".) However, it must be noted that when Ledger does lean into dark tones of loneliness in a song like "Nobody Knows", it is really effective. It would have been nice if Ledger had delved even more into his classic country side because that is where some of the best songs off this album come from ("(I'm Going To Get Over This) Some Day", "Imagining Raindrops", "Skip A Rope", and "Starlight".) There are certainly some interesting offerings in rock-leaning tracks like "Electric Fantasy" with its experimental guitar and percussion, but they do not play to Ledger's strong vocal capabilities as much as some of the other tracks on the album do.
Favorite Tracks: "(I'm Going To Get Over This) Some Day", "Nobody Knows", "Imagining Raindrops"
11. Pam Tillis — Looking For A Feeling (April 25) 3/5
In her first solo album in over a decade, Tillis moves beyond the 90s country style that most associate her with from staples like "Maybe It Was Memphis" and "Shake the Sugar Tree" and experiments with more gritty grooves and folk rock. Among the string of late career or "comeback" country records that have come out in the past couple of years (Tanya Tucker's The Way I'm Livin', Loretta Lynn's Wouldn't It Be Great, and the John Anderson album reviewed above to name a few), this will probably be one that gets overlooked by many, and that's honestly a shame because it's probably the one that takes the most risks and has the most variety. While there is a great selection of dependable country songs like "Dark Turn of Mind", there are also funkier moments like the title track and "Dolly 1969", the latter being a fun song with spoken verses and vivid imagery springing from an old picture of Dolly Parton. However, the album is not without its missteps and, at worst, unmemorable moments. For example, in "Karma", the verses are solid and create a nice swell into the chorus, but once you get to the chorus, the poppy vocal layering becomes distracting; and while "Dolly 1969" is an interesting and enjoyable track, its awkward placement in between two somber songs makes it a little disjointed upon first listen. Despite these small faults, Tillis' strong and beautiful vocals really carry the album with emotive sass and swagger, which help the project's best songs like "Better Friends" and "Lady Music" truly shine.
Favorite Tracks: "Dark Turn of Mind", "Better Friends", "Dolly 1969"
12. Sam Hunt — Southside (April 3) 1.5/5
Following up on his highly successful 2014 debut album Montevallo, Hunt returns with his signature sour charm accented by messy production and condescending lyrics. While Hunt has always been a capable songwriter with a good knack for details ("Cop Car", a 2013 hit for Keith Urban that Hunt co-wrote, for example), he tends to portray himself as a miserable and hypocritical jerk in a lot of his songs. On Southside, this lyrical sourness can be heard on "That Ain't Beautiful", a song where Hunt criticizes a woman's "reckless" lifestyle even though he sings about his own similar faults on "2016" and "Drinkin' Too Much", and "Hard To Forget", a song that can be enjoyable to listen to (once you can get past the production that butchers Webb Pierce's 1953 hit "There Stands the Glass") until you get to the cocky lyrics of Hunt convincing himself that his ex has to be trying to get his attention. Many critics have called Hunt the "country Drake", and perhaps it's this similar bitter wallowing that helps explain Hunt's appeal, but I won't for the life of me ever be able to get behind it. I could probably appreciate Hunt's brooding if it weren't for his sleepy delivery that makes it seem like he isn't even enjoying the music he's putting out and that this album was lazily put together over the past six years (the odd inclusion of his 2017 hit "Body Like A Back Road" on this album further emphasizes this.) There is no arguing that Hunt's debut Montevallo had a significant impact on the trajectory of rap and hip hop sounds being incorporated into the mainstream country landscape post-2014, but I don't see Southside having anywhere near as much impact with recent hits from artists like Lil Nas X and Breland doing the exact same thing (Sam Hunt features on a April 2020 remix of Breland's country trap song "My Truck".) On top of that, considering that country radio is starting to embrace more traditional country sounds (ex. Jon Pardi) and continuing to push soft pop "boyfriend country" (à la Dan + Shay), the vast majority of music critics that have lauded this album as a guide for the future of country music clearly know little about the genre and where it is at in 2020.
Favorite Track: "2016"