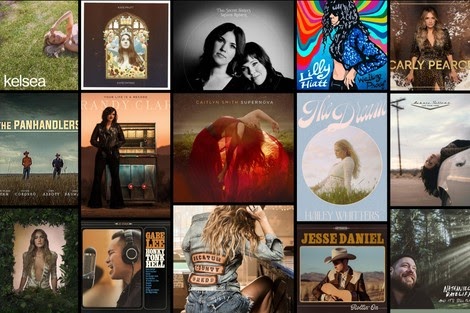 During this crazy time we're living in, we've all had to find ways to cope and escape the anxieties that come with not knowing what will happen next. That may be watching a string of old movies and TV shows or even going out for a walk or run if you're able, but if you're like me, music can also be a great comfort. While artists are not able to tour in light of the pandemic, many are still releasing new music even without traditional means of promotion. If things were normal, I would be trying to play some of this new music on my show, but since I can't do that, I thought I would delve into some of these releases here.
Below are fifteen reviews of country and Americana albums that were released in February and March listed by my personal rankings of them. There is also a Spotify playlist with all of my favorite tracks from these albums listed below along with songs from a non-country album that I have been listening to a lot as well as some John Prine songs in light of his tragic passing this past week (you can find blurbs about these additions at the very end of this post.) Feel free to skim these reviews as little or as much as you want or just check out the playlist if you're looking for some new music to check out while you're stuck inside. Enjoy and take care from wherever you may be reading this!
1. Caitlyn Smith – Supernova (March 13) 4.5/5
(Full disclosure that this album helped get me away from the stress, chaos, and anxiety that was running through my mind during what would end up being my last night in my dorm room this semester and had me dancing all the way through… so I might be slightly more biased than I would be otherwise, but trust me, it's still great!)
Smith's 2018 debut album presented a collection of songs with a classy pop country production that accompanied her flawless and emotive range, and her sophomore effort does not disappoint. It kicks off with the dramatic and hopeful anthem "Long Time Coming" and ends with the heartbreaking piano ballad "Lonely Together"; what lies in between are elegantly performed tales of love lost and found. Smith explores more pop and soul terrains with this album, but it makes no sacrifices in quality as a stellar pop country album that continues to deserve her more attention in the mainstream. The only downside to this album is that it can come off as a little over produced at times, but as long as the music still lets Smith's biggest asset, her voice, shine through, there is nothing to complain about.
Favorite Tracks: "Damn You for Breaking My Heart", "Lonely Together", "Long Time Coming", "Midnight in New York City"
2. The Secret Sisters – Saturn Return (February 28) 4.5/5
For the Secret Sisters' fourth album, the Alabama sibling duo reach closer to the potential their stellar harmonies have always provided with their second album produced by the wonderful Brandi Carlile. On their last album You Don't Own Me Anymore, the best moments came from the dark, Southern Gothic tracks, and the few that appear on this album are also standouts (the first promotional single "Cabin" that was written in the midst of the Brett Kavanaugh hearings and "Water Witch", where Carlile lends some of her vocals.) The most pleasant surprise on this album is how warm and comforting the other songs sound as they sing and reflect on love, motherhood, and the passage of time. This is an album that only gets better with additional listens from the soulful piano on "Late Bloomer" to the dreamy folk-pop of "Hand Over My Heart".
Favorite Tracks: "Cabin", "Late Bloomer", "Water Witch" (feat. Brandi Carlile), "Hand Over My Heart"
3. Jessi Alexander – Decatur County Red (March 27) 4.5/5
Alexander's first album since 2014 is a brief reminder of what makes country music great. With its stripped back, traditional honky tonk sound sprinkled with some soul and blues influences, this album covers a wide spread of love, heartbreak, and rediscovering one's roots within its eight song tracklist. Alexander is primarily known for her success as a songwriter with credits on songs from Black Shelton, Ashley Monroe, Lee Brice, and even Miley Cyrus with "The Climb" (additionally, the song "Damn Country Music" was recorded by Tim McGraw in 2015 before it appeared here), and this album shows that she should be recognized as an artist as much as a songwriter. As much as each of these songs pay tribute to some of country music's most prominent topics (working class issues, cheating, drinking, etc.), they also subtly show listeners pieces of Alexander herself and her perspectives on life and the music industry.
Favorite Tracks: "Damn Country Music", "My Problem Is You", "Mama Drank", "How I'm Going Out"
4. Katie Pruitt – Expectations (February 28) 4.5/5
Pruitt's debut album successfully balances potent subject matter with an abundance of melodic ear-worms and subtle production. On the surface, many of these songs could be considered straightforward love songs, but alongside songs that tackle mental health and the potential consequences of coming out to her conservative, Catholic family, they are so much more as Pruitt finds herself trying to tackle and move past the expectations she was brought up around. Her voice is able to break out confidently thanks to the stripped down instrumentation, which results in warm and seemingly familiar tones throughout. While most of these songs follow a similar structure and build-up towards each of their ends that borders on repetitive, this album offers so much promise for whatever this new artist decides to do next.
Favorite Tracks: "Expectations", "Loving Her", "Normal", "Out Of The Blue"
5. Lilly Hiatt – Walking Proof (March 27) 4.5/5
Hiatt almost perfectly blends rock and Americana in her fourth album with songs that show her as both thoughtful and confident. While there are more mellow moments like the opener "Rae" and "Candy Lunch", Hiatt comes out as strong as she does on rocker tracks like "P-Town" and "Some Kind of Drug" (which features some faint background vocals from her father and well-known musician, John Hiatt– the first time he has done so on one of her albums.) There are even songs like "Brightest Star" that go back and forth between folkier Americana and straight-up rock within its three minute duration, which shows how Hiatt successfully blends multiple genres in order to express herself in an album that still comes out as a very cohesive listen.
Favorite Tracks: "Rae", "Some Kind of Drug", "Never Play Guitar", "Brightest Star"
6. Brandy Clark – Your Life Is A Record (March 6) 4/5
Whereas Clark's first two albums focused on strong storytelling and a variety of characters, her third album focuses more on herself as she navigates the end of a fifteen-year relationship. While there are songs that find Clark examining her own faults like "Who You Thought I Was" and "Apologies", they are balanced with sassier tracks such as "Long Walk" with lyrics like "so take a long walk off a real short pier/ take a cinder block with you as a souvenir" that are just fun. Outside of "Bad Car", the second half of this album does not stand out as much as the rest, and I think this lies in the production that almost muddles the great lyrics and melodies of these songs at times. Nevertheless, the hit-and-miss production towards the end does not hinder from showcasing that Brandy Clark is one of the best songwriters in country music today.
Favorite Tracks: "Who You Thought I Was", "Long Walk", "Pawn Shop", "Love Is A Fire"
7. Hailey Whitters – The Dream (February 28) 4/5
Whitters' sophomore album is one you want to root for even if it's not perfect. Over the course of twelve songs, Whitters lays out a narrative of perseverance and fighting for your dream despite only seeming to ever get just short of it. You feel for her in the opener as she sings that she is "twelve years into a ten year town" and that she didn't go this far towards her dream "to only go this far", and you root for her in optimistic songs like "The Days", "Dream, Girl", and "Heartland". After she receives some life advice from an older woman in "Janice at the Hotel Bar" at the halfway point of the album, you are happy for Whitters as she finds herself more content in the closer "Living the Dream". Unfortunately, the album's narrative is hindered in the second half when it tries to be darker in songs like "The Devil Always Made Me Think Twice"; there are also some less convincing performances in songs like "Red Wine and Blue" that could have been left out for the better. However, Whitter's songwriting is superb on this album and shows a small sample of the great talent that Music Row is choosing to ignore (honestly, a song like "The Days" would be a great pop country hit if radio ever gave it a chance.)
Favorite Tracks: "The Days", "Ten Year Town", "Janice at the Hotel Bar", "Heartland"
8. Gabe Lee – Honky Tonk Hell (March 13) 4/5
Coming off his mostly acoustic debut album farmland from last year, Nashville native Lee opts for a bigger instrumental ensemble for a rocking promise of a sophomore album. farmland showed Lee's strong songwriting capabilities, but Honky Tonk Hell shows off his musical range. With more variety, the stripped back moments like "Imogene" are able to stand out much more than they would have on his debut, but songs that lean more on Southern rock like the title track and opener are equal standouts as well. While there are a few clumsier musical moments that can be found on the album, this is a great step in a promising direction for this rising country act that deserves much more attention.
Favorite Tracks: "Honky Tonk Hell", "Imogene", "30 Seconds at a Time", "Babylon"
9. Jesse Daniel – Rollin' On (March 27) 4/5
Daniel's new album is a gorgeously produced California country record about moving on, living in the present, and appreciating what you have. The album's sound is wholly traditional with a spirit reminiscent of Dwight Yoakam. Take the title track for example: it comes out with rocking guitar and piano that oozes neo-traditional country cool as Daniel sings about carving out his own path on the road. As enjoyable as the album is to listen to for its near perfect production, Daniel would have benefited from showing more of himself through additional lyrical nuance and detail. The track "Old At Heart" offers a glimpse of that as he looks out to the people listening to him play that notice his youth as he plays traditional country and reassures them that "if they saw the man inside/they'd know my soul was gray and worn/cut from a cloth that's stained and torn." There is still a lot of room for Daniel to grow as a songwriter and storyteller after this album, but the sound and musicianship is all there with a solid album from an artist that should be on every country music fan's radar.
Favorite Tracks: "Old At Heart", "Rollin' On", "Bringin' Home the Roses", "Tar Snakes"
10. Kelsea Ballerini – kelsea (March 20) 3.5/5
For Ballerini's third album, she takes a deep dive into her pop influences for her most self-aware and neurotic release yet. This self-titled album finds Ballerini navigating life transitions and growing up. There are moments that hearken back to the past like "homecoming queen?" and "half of my hometown" (featuring her fellow Knoxville native, Kenny Chesney), and there are also moments that ponder the future like the album closer "la", where Ballerini considers leaving her home in Tennessee for LA. While Ballerini has not given any indication that she plans to leave country music, kelsea comes off as more of a straightforward pop album than country, but its strong and personal songwriting makes it an enjoyable listen all the same.
Favorite Tracks: "overshare", "la", "half of my hometown" (feat. Kenny Chesney)
11. Carly Pearce – Carly Pearce (February 14) 3.5/5
Pearce's sophomore album builds on her 2017 debut with a set of songs that blend radio-friendly pop country with an appreciation for neo-traditional 90s country. There are points in the first half of the album that lean too much on snappy pop melodies, but that changes in the second half with the sentimental and mature ballad "It Won't Always Be Like This". Pearce's rich alto tone is at its best when it is able to breathe on tracks like "Lightning In A Bottle" and "I Hope You're Happy Now" compared to tracks with heavy staccato melodies and vocal layering like "Heart's Going Out Of Its Mind." This album does not break any boundaries nor does it have to, but it successfully refines what worked best on Pearce's debut with a well-rounded collection of likable songs.
Favorite Tracks: "It Won't Always Be Like This", "Lightning In A Bottle", "I Hope You're Happy Now" (feat. Lee Brice)
12. The Panhandlers – The Panhandlers (March 6) 3.5/5
The Panhandlers are a super-group made up of some of the biggest names in Texas country: John Baumann, Cleto Cordero, William Clark Green and Josh Abbott, and for their first project together, they musically depict the flat and undesirable landscape of Texas' "Panhandle" region and the people who inhabit it. Historically, country music has been considered a regionally-based genre, and there are several classic country songs with a great sense of place, but the Panhandlers' attempt to do this sometimes comes across as empty as the landscape they are portraying (and not in a good way.) That is not to say that this is a bad album (far from it), but the album would have benefited from more camaraderie and emotionally connected vocal performances among the four members. The major highlights come in the album's instrumentation from the lonesome fiddle and steel guitar in "The Panhandler" to the overall ensemble performance in the most energized track "No Handle". While an intriguing side project for these artists, there is no lying that it could have taken more advantage of what makes collaborative super-group albums so fun and interesting to listen to.
Favorite Tracks: "The Panhandler", "West Texas In My Eye", "No Handle"
13. Aubrie Sellers – Far From Home (February 7) 3/5
When Sellers released her debut album New City Blues in 2016, she described her sound as "garage country", and she furthered this electric style in her sophomore album with fair results. What gave Sellers' debut so much promise was her ability to make her delicate and distinct tone (that bares some resemblance to that of her mother and fellow country artist, Lee Ann Womack) stand out across the balance of both louder and softer tracks; in fact, despite the "garage country" label, some of the standouts from that album were the gentler songs. This album, however, focuses more on heavy percussion and distorted guitars that occasionally overshadow Sellers' vocals on a track like "Glad". There are still some quieter moments ("Haven't Even Kissed Me Yet" being the most memorable), but there could have been more balance and variety across the album. While this album does not evolve much from Sellers' solid debut, her unique sound within country music is still well showcased here.
Favorite Tracks: "Haven't Even Kissed Me Yet", "My Love Will Not Change" (feat. Steve Earle), "Lucky Charm"
14. Ingrid Andress – Lady Like (March 27) 3/5
For her debut album, Andress put together a decent collection of mid-tempo pop "country" songs that revolve around love. I put the country label in quotes because these tracks are seemingly pop with only some faint banjo and steel guitar hidden in the back of the mix to qualify as "country", and a song like "We're Not Friends" just seems like the poppier version of Maddie & Tae's "Friends Don't". Putting this aside, the highlight of this album would be the relatable songwriting that is consistent throughout. While a pleasant and cohesive listen, I finished the album hoping for more that grabbed me the way the breakout single "More Hearts Than Mine" did. Whether this issue fell more on lyrical content or production, I'm not sure, but this is still a solid debut that gives Andress a firm foundation for her music going forward.
Favorite Tracks: "Bad Advice", "More Hearts Than Mine", "Anything But Love"
15. Nathaniel Rateliff – And It's Still Alright (February 14) 2.5/5
Considering that this album was largely inspired by tragic events in Rateliff's life in 2018 (a divorce and the passing of his producer and collaborator, Richard Swift), this album could have afforded to be a lot sadder than it is. In songs like the title track, you can hear Rateliff's attempt to be optimistic in the face of hardship. While this can be a respectable approach, the album comes out as more of a mix of wishy-washy melancholy than any dynamic or memorable sense of sadness or optimism. On top of that, by opting for an acoustic sound, Rateliff's latest solo album leaves little that warrants a second listen compared to the more well known and electrifying tracks like "S.O.B." and "You Worry Me" from his two prior albums with the Night Sweats.
Favorite Tracks: "And It's Still Alright", "What A Drag"
Outside of country and Americana, I've also been listening to a lot of Niall Horan's sophomore album Heartbreak Weather that came out March 13th. It's a more electric and thematic album than his largely acoustic yet solid debut album Flicker and follows the ups and downs of falling in and out of love in what is a great and emotive pop record. My favorite tracks from Heartbreak Weather are "Nice To Meet Ya", "Black And White", "Put A Little Love On Me", and "Still".

Lastly, while I am not as familiar with John Prine's work as I probably should be, I am aware of the massive impact he had as a songwriter, artist, and generous mentor to so many of the artists that I love. To honor Prine's artistry and songwriting that was in a class of its own, I added to the playlist my favorite tracks from the last album he released that I thoroughly enjoyed and have played songs off of on my radio show, 2018's The Tree of Forgiveness. These tracks are: "When I Get to Heaven", "Ordinary Blue", "Knockin' on Your Screen Door", and "Summer's End".