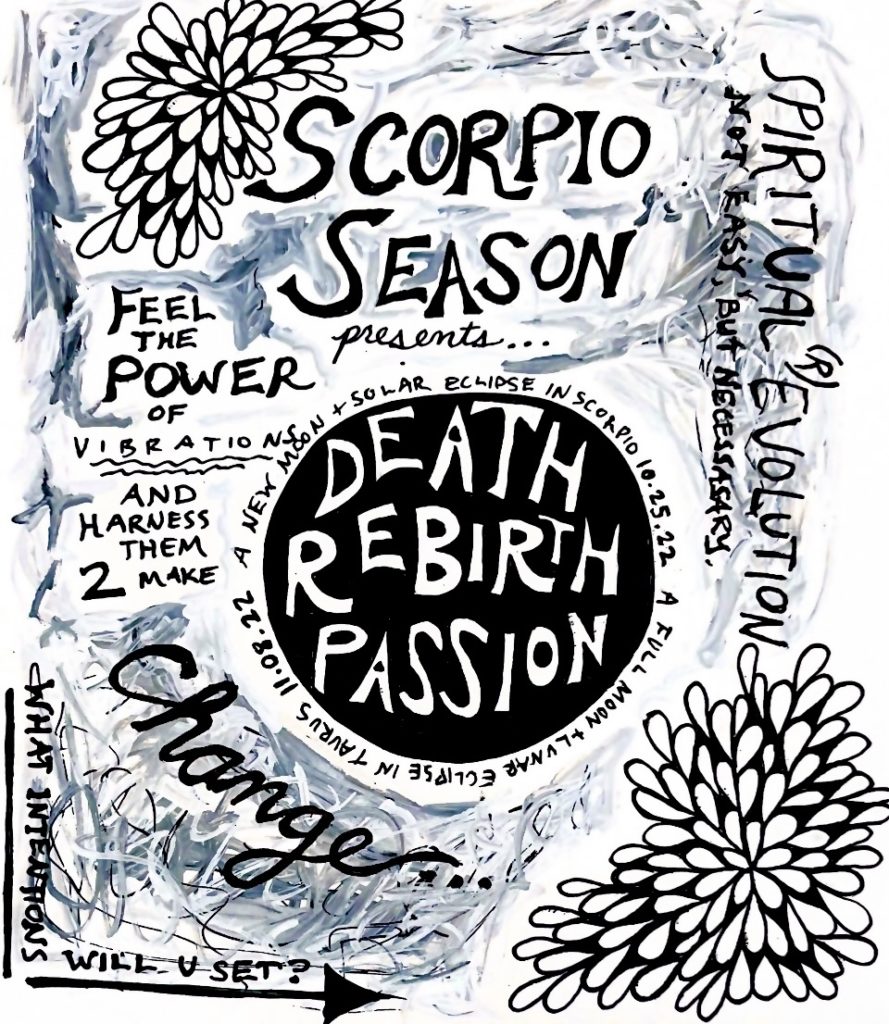 Feel the POWER of vibrations around you and HARNESS them 2 make CHANGE.
Welcome back to Tarot Tuesday <3
We are commencing the eclipse season + Scorpio season. This week is about Spiritual (r)evolution, staying clear of negative thots, and trusting the process of becoming, even if that means unbecoming the person you once were.
This is a very special eclipse season, because it is taking place during Scorpio season. Our first solar eclipse (+ Scoprio New Moon) was Tuesday at 1:49am (CT). Now is the time to start setting intentions and reflecting on ideas of life, death and rebirth. How do you make sense of these ideas? What are you passionate about? How do you make meaning out of life? WHAT DO YOU DESIRE THE MOST?
Our emotions are intense. This reading has A LOT of swords. They are dominating this reading. Why? Let's get into it.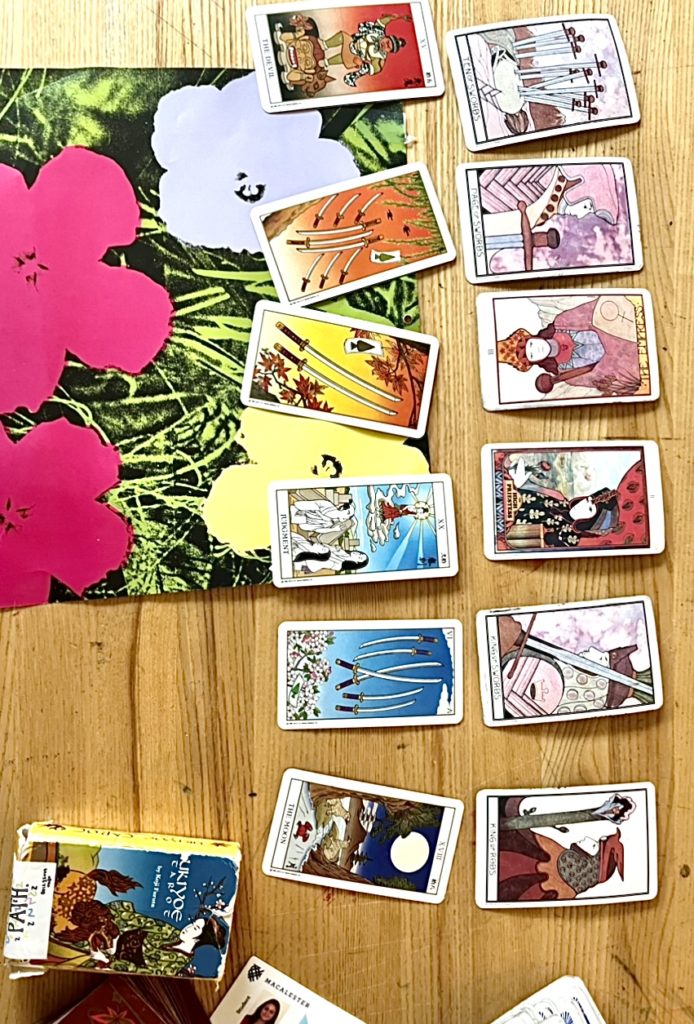 This ten of swords is giving extreme pain. Literal swords stabbed in the person's back. These are deep wounds. Perhaps you are being dramatic, but for all the right reasons. Making sense of pain and suffering helps us understand life better. As @thescorpiowitch (follow me on IG haha) I would say that the pain, loss, and betrayal should be a motivation to move on and create the life you desire the most. The worst part is over. TEN OF SWORDS
When you eventually find a way to let things fizzle and die out, your drive and thirst for knowledge will be reborn. Now is the time to explore new perspectives and ideas. This season is an opportunity to expand on your communication with others. What is your love language? You can do almost anything when you learn how to communicate through love and compassion. PAGE OF SWORDS
Tap in to that divine feminine. How do you want to be nurtured by the people around you? It starts with how you choose to nurture yourself. THE EMPRESS REVERSED
And also tap into that intuition. This will help you resolve the confusion you've been dealing with. Listening to what your feelings, your subconscious, is trying to tell you is one of the most enlightening feelings. THE HIGH PRIESTESS
You are ready 2 take on what is 2 come. The page of swords is on a journey of learning new things and the king of swords is here to bring you the mental clarity you desire. But you won't be able to get there without the help of the empress and high priestess. Your feelings teach you more than what is written down in the book you study. KING OF SWORDS
Dream Big. You have an honorable vision that makes for a leader like no other. So, it's your duty to follow your dreams! KING OF WANDS
We know that the devil exists to tempt us with addiction. But also serves as a reminder that you can be the devil is an illusion for the deeper issue of attachment. We all find ourselves naturally attaching to ideas, peoples, and materials. There's no escaping, this is how we are as humans. What attachments serve you well and which ones are eating away at your soul? Start brainstorming a list of the things you keep telling yourself you want to let go of. It's time to reflect on why you can't seem to let it go. You know what you need to do. THE DEVIL
Whatever the Devil has presented you, us, is causing deep inner turmoil. Negative thots are giving you fear and anxiety. This 9 of swords reversed is also indicating that you are internalizing your problems and hiding it very well. Why are you so hard on yourself? 9 OF SWORDS
You are going to have to make some difficult decisions this Scorpio season. You've maybe already been thinking about your decision and weighing the pros and cons. Use both your head (your mind and the intellect) and your heart (your feelings and intuition) to choose the path that is most in alignment with your Higher Self. 2 OF SWORDS
The Judgement card is calling you to rise above and embrace a higher level of consciousness to make your decision. You will be judged on it. And that is not a bad thing, it is just the way life goes. Every action has a reaction. How does your decision serve the higher good? You may find comfort in sharing the struggle you are experiencing with others. Let these people guide you and rise together. Your rebirth awaits… JUDGEMENT
The 6 of swords is indicating that we have baggage that we need to let go of. This is a transition period. This time of year, this eclipse season is all about transition. You are leaving behind the familiar and moving in to the unknown. This is an exciting thing when you finally let things exist in the past! 6 OF SWORDS
And we circle back to the Moon. The Magic of the MOONLIGHT is what we should be guided by this Scorpio season. The Moon is symbolic of intuition, dreams, and the subconscious. What do you dream of!? Set your intentions now and watch yourself transform from now until we are greeted with the lunar Eclipse on November 9th. THIS IS THE ART OF LETTING GO. Your metamorphosis awaits. THE MOON.
We got from the 10 of Swords to the Moon. This is about feeling into the hurt, the wounds, the betrayal, and allowing it to transform you.
NOW… I know some of you have been wanting horoscopes. Here we go.
Horoscope/themes for the signs.
Scorpio: Spiritual Transformation. This is your season Scorpio. Your always changing, but now is the time to connect with your higher self. Allow the heartbreak to drive you in to metamorphasis.
Sagittarius: Inner child. For you to get connected with these ideas, Sag, you'll have to revisit the past. What gives you joy? How can you get in touch with your sense of self again?
Capricorn: Disagreement. You are going to run in to some tensions with people. Don't let "Bad Blood" hang over you.
Aquarius: Creativity. Aquarius, keep leading with your intentions and ideas. You are a natural-born leader. Your vision serves the people you want to support long-term.
Pisces: Adventure. Allow this season to help you look into future possibilities of expansion and travel. You are still working on that vision, but the time spent on that vision will help you figure out where you want to truly be.
Aries: Hope. Now is the time to renew your sense of faith and spirituality. What do you look to when times get rough. Keep following the star. You know who you are.
Taurus: Independence. Setting clear boundaries and communicating about your wants and needs will help you transform the most Taurus. With the lunar eclipse falling in your sign this cycle, mental clarity will be key to your maturity.
Gemini: Diversity. Gemini, you are also going to be dealing with some conflicts and disagreements with others. Allow room for yourself to process what others are saying and decide if you are with it or not. Don't let the competition get to you. Approach conflict with enthusiasm.
Cancer: Manifest. Draw the power and attention to yourself cancer. With the right intentions and resources, you can take the necessary actions to create what you want in life. Your power is love!
Leo: Free Spirit. This is your sign to be the spontaneous, free spirited, main character! Take a chance on new opportunities and see where they will take you. Cheers to new beginnings. Carpe Diem!
Virgo: Security + Control. Change could feel like a threat to your certainty, safety and security in life. Any suggestion of doing things differently is, therefore, going to be met with resistance. 'Playing it safe' may be the way to go rather than taking any risks at this point.
Libra: Walking Away. Libra it's time to walk away from disappointing people and things. Now, the only choice is to put it behind you and move on with your life, even if it brings you sadness as you say goodbye.
This is the spooky season so don't forget to protect your energy. Yesterday, I was in the studio and dropped my deck and the death card landed face up. That same say, we all received an Amber Alert in St. Paul regarding a homicide. Death indeed was around us at the time, but it is also an important reminder that death does happen around us every day, whether is it near us or far from us. This is a reality of our lives.
Recently I've been honoring the death of my childhood best friend Hayley. She died of ALS when we were 16. I recently got to share a drink with her parents and grandma for her dad's 50th birthday and it was quite emotional. I deeply regret not getting to spend as much time with her towards the end of her life. My emotional experience with her family had made me realize I hadn't gotten to process. I am making more space for myself to not just process her death, but to also process death with my parents, who both lost their parents at a very young age. I'm still learning how to honor these people in my lifetime as they've shaped by life and spirituality immensely.
This post and the art I am creating/curating this season is dedicated to my best friend Hayley.
The dialogue around death is very heartbreaking, but an important conversation. I share this in my sacred space of tarot Tuesday, and I hope you all are able to find space with others to process death.
PROTECT YOUR ENERGY! LIFE IS SACRED!
With love,
THESCORPIOWITCH
Here's a few playlists I've curated :3