When I was in sixth grade, I had a subscription to Tiger Beat magazine, and in one of these issues was a short feature about a couple upcoming young artists, and one of them that caught my eye was a fourteen-year old from Oklahoma named Greyson Chance. Whereas most people's introduction to Chance was his cover of Lady Gaga's "Paparazzi", the first video I watched of his was an original titled "Broken Hearts", and twelve-year old me thought it was one of the most beautiful songs that I had ever heard. Thus, after hearing that along with his 2011 album, Hold On 'Til The Night, I developed my first official celebrity crush.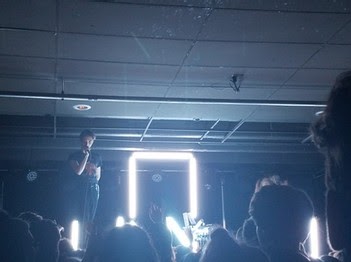 While that crush did not last long past the first half of middle school, I continued to try to keep up with the ups and downs of Chance's music career– from "Sunshine & City Lights" to his brief break from music after being dropped from his label and management at eighteen before coming back with songs like "Back On The Wall" and his 2019 album portraits. When I saw that Chance would be performing in Minneapolis as part of the North American leg of his Portraits World Tour, it was an opportunity that I could not pass up.
Chance started out his set at the Skyway Theatre this past Friday by proclaiming that his main goal was to serve the audience, but with his strong command of the stage, the audience seemed to be more in the palm of his hand than the other way around. However, this type of sentiment continued throughout the entire show as Chance curated his show to celebrate love, heartbreak, and perseverance. With two outfit changes and a stunning light show, Chance almost exclusively performed songs from portraits— exceptions included older tracks like the uplifting and heartfelt performance of "Gold As Gold" and the upbeat "Back On The Wall" and newer tracks like the recently released "Boots" and an unreleased piano ballad called "Overloved."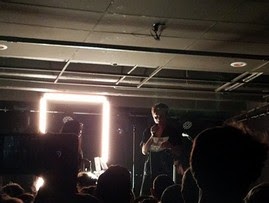 Looking back at the concert, two moments stood out to me. The first was when Chance brought out a fan that he had met prior in the day at both a radio event and a meet and greet that had this old magazine poster of Chance (a poster not too different from the one I used to have taped on the back of my bedroom door alongside the likes of One Direction and others once upon a time.) Knowing that a lot of us in that audience were probably like this fan, he thanked us for sticking around for the past ten years, which is a crazy thing for a twenty-two year old like Chance to be able to say. This interaction ended with the fan telling the audience to get out and vote, which then spurred Chance to go on this wonderful tangent likely inspired from his involvement in political groups while attending the University of Tulsa during his brief break from music.
The second moment that stood out was a spoken interlude before the song "stand", the chorus of which he explained that he wrote in one of the music rooms while at college. While a majority of the show was spent with more up-tempo dance tracks like "black on black", Chance took this moment towards the end of the set to talk about his long and tumultuous journey in the music business: making an album in his early teens, suddenly getting dropped by his entire team at eighteen, taking a step away from music and going to college, and finally getting back to music and being able to perform his music in front of an audience like the high energy one found in the Twin Cities that night. Chance then pushed this message of perseverance back to the audience before diving into "stand" on the piano.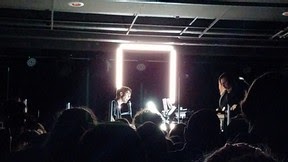 While twenty-year old me partly went to this concert out of respect for twelve-year old me's adoration of Chance's flawless vocals and piano skills, I walked away believing that some things never change: Chance's voice and range are still top notch and his moments alone on the piano were some of my favorites of the show. While it may have been a little rocky getting there, Chance seems to be coming into own as an artist on his own terms, which, for someone who has been a fan for almost a decade, makes me both happy and proud. With promises of a new album next year, here's hoping that this is just the beginning for Greyson Chance and his music.
If you're interested in learning more about this artist, check out Greyson Chance's YouTube channel!