Show Times
Not Currently Scheduled.
About the Show
Tarot Tuesday is hosted by one of your managers, Sara G, aka rel1g1ous th0t…
What is Tarot Tuesday?
Tarot Tuesday is a collaborative community at WMCN. Tarot Tuesday is the witching hour ;). I am holding space to teach people tarot and tell a collective reading through everyone's card pulls. Each week, every guest will pull a card and we will string together a collective reading. The name of the game is we pull cards, talk about them, and play music that reflects the card. The music may resonate more with sound or with the lyrics. However, the tarot cards may be interpreted, it will reflect in the songs WE curate together.
Anyone is invited to be a guest on Tarot Tuesday, me, Sara, will be hosting whoever wants to be a part of that space that specific week. I am open to facilitating various conversations and topics. Tarot Tuesday is flexible and ever-changing.
It's worth noting that Tarot Tuesdays have existed before WMCN, and that many have been contributing to this movement already. Tarot Tuesday is the movement of readers and witches that value the art and reflection of tarot. My hope is to engage the WMCN community with dialogue on tarot and spirituality.
**If you want to stop by OR co-host a Tarot Tuesday please email sgregor@macalester.edu or DM @REL1G1OUS.TH0T on instagram.**
[Click here] to join the mailing list for Tarot Tuesday.
What is a collective reading?
A collective reading is a reading I, or whoever else is interpreting, that is predicted for the collective. A collective reading included the various energies and circumstances that may be circulating in your life right now. You may resonate with one card more than others in this reading, but the collective reading offers you advice and connections to solutions and prompts to think about. Share these prompts with your friends. Share Tarot Tuesday with your friends. It could spark up some really meaningful dialogue for yourself, your friends, your community. Anyone can talk about tarot! We should all be talking about tarot.
What is Rel1g1ous Th0t?
**REL1G1OUS TH0T** is me. I recognized her and brought her to life in an effort to spread her light, love, and wisdom.
We live in a society that has religion ingrained in our institutions, relationships, thoughts, behaviors… It's almost impossible to escape religious thought in our society. According to Harvard University, "the field of religious thought addresses theological and philosophical reflection in religious texts and contexts. Modes of analysis include intellectual history, critical engagement, and comparative work."
**REL1G1OUS TH0T** is a project/concept I've been developing and practicing for the past year. As an artist, curator, and activist, I am constantly trying to produce content that connects people with their sense of spirituality and self, to envision a collective that values peace, healing, and harmony.
 "Thot" has been used as a derogatory slang term used to describe "that hoe over there". "Thot" is a resistance of "thought" and challenges the knowledge that we have been taught. **REL1G1OUS TH0T** is not only addressing theological and philosophical reflections in academics but it reflects an epistemology of what it means to be spiritual. **REL1G1OUS TH0T** actively resists the norms and systems of knowledge that have historically oppressed marginalized groups of people.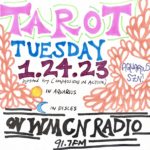 Hey y'all! Welcome back to Tarot Tuesday + Happy Lunar NEW YEAR! Here's the weekly Tarot Tuesday Collab playlist. This semester Compassion in Action will be helping me host Tarot Tuesday. In addition, I will be returning to the usual Tarot Tuesday blog posts. I want to set the intention that these blog posts are […]
[…]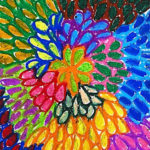 Hello Teenage Dirtbags… Welcome back to another Tarot Tuesday! We're getting even deeper this week. Last week we were introduced the Queen of Cups. A compassionate, nurturing, loving energy the world needs right now. She is in flow. And this is highly because she loves herself. We got pretty well versed in the Queen of […]
[…]